Despite a catalog of not-so-competitive performances from Australian athletes over the past couple of days, Seven has managed to keep its In Rio Today average metro audience over the 1m mark.
However, Seven's primetime Monday average was its lowest since the Games started as was the combined channel share for Seven's three Olympic linear feeds plus the viewing alternative offered by 7flix.
Nine, Seven and the ABC had either their best or second-best shares of the past week.
The Olympics day 9 started with Sunrise recording one of its smallest audiences since Rio competition kicked off. Seven reported record streams though on Monday for Usain Bolt, yet the weekday daytime average TV numbers were well down on those watching TV on Sunday.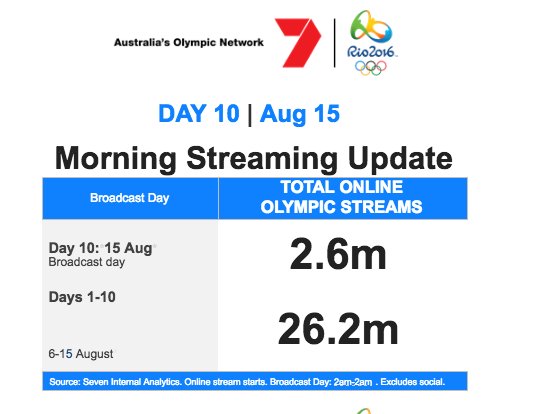 This is how the numbers looked for the end of day 9 and the start of day 10:
Sunrise 390,000
Day 9 – day 588,000
Day 9 – highlights 391,000
The Chase 472,000/736,000
Seven News 1.52m/961,000 (No Adelaide and Perth at 6.30pm)
In Rio Today 1.05m
Day 10 – evening 790,000
Day 10 late – 502,000
Online streams day 10 – 2.6m (Cume streams days 1-10 26.2m)
Follow Mediaweek on Twitter (@mediaweekAUS) for updated Rio ratings across each day of the Games.